Personnel changes
Shelby Curry left to do her Ph. D. work at Iowa State. It's been great working with Shelby, and we wish her all the best in her continued career.
Jeru Abelilla arrived from the Philippines to begin her Ph. D. studies. We will have a profile of Jeru in the next issue of the newsletter.
Gloria Casas, formerly a visiting scholar, is now pursuing her Ph. D. with our group. She will be continuing her work with rice and rice co-products.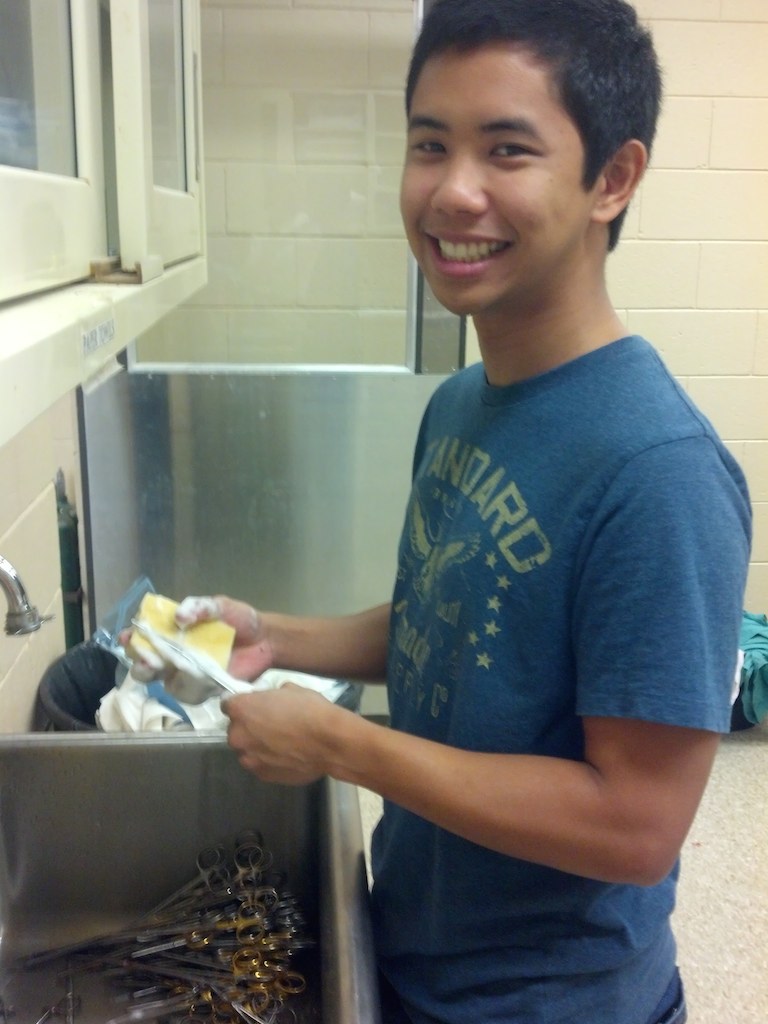 Lab activities
Laura finished a study on calcium digestibility in animal sources.
Pilar started an experiment on the effects of level of feed intake on total tract digestibility of energy and nutrients in diets fed to growing pigs.
Kate finished an experiment to determine digestible amino acid scores for oat protein, a study of nutrient digestibility of pigs fed diets containing EcoMix, an experiment testing the use of a formaldehyde-based antimicrobial, and a test of the use of acids in ileal collection bags. She started several digestibility studies.
Travel
Dr. Stein travelled to several countries in Asia between July 30 and August 18.
First, he attended the 20th SE Asian Feed Technology and Nutrition Workshop (FTNW) in Manila August 4-7. The FTNW was sponsored by the U.S. Soybean Export Council (USSEC) and the U.S. Grains Council (USGC). Dr. Stein gave five presentations at the conference:
Concepts in AA nutrition for pigs
Concepts in lipid nutrition
Carbohydrates in feed ingredients, classification and analysis
Concepts in energy utilization
Effects of feed technology on the nutritional value of diets fed to pigs
In addition, he led a workshop on "Feeding programs for gestating and lactating sows."
Next, Dr. Stein traveled to Vietnam. In Hanoi on August 11 and Ho Chi Minh City on August 12, he gave five presentations at the Vietnamese Swine Nutrition Conference organized by the U.S. Grains Council:
Nutritional value of soybean products included fermented and enzyme treated soybean meal
Nutritional value of co-products from the rice milling industry
Nutritional value of corn and co-products from the corn dry grind and wet milling industries
Use of animal proteins in diets for weanling pigs
Effects of particle size of corn on energy and nutrient digestibility and performance of pigs
In Bangkok, Thailand, on August 15, Dr. Stein gave six presentations at the "Swine and Poultry Nutrition Conference" organized by the US Grains Council. In addition to the five presentations he gave in Vietnam, he spoke about "Inclusion of copra meal and palm kernel meal in diets for pigs."
Kelly returned from her summer in the Philippines. While there, she gave four talks at the FTNW in Manila:
AA digestibility in US-produced soybean meal fed to pigs
Carbohydrates in soybean meal
Energy contributions from US produced soybean meals fed to pigs
Use of technology to enhance the nutritional value of soybean products
Caroline visited several countries in Europe in August. She gave a talk on "Aspects of calcium digestibility in pigs" at AB Vista in the UK and AgriFirm in the Netherlands. From August 25-29, she attended the EAAP conference in Copenhagen, Denmark, where she delivered a talk on "Standardized total tract digestibility of calcium in growing pigs." She also spent some time vacationing in Spain.
Diego also traveled to Denmark. He gave an oral presentation on "Amino acid digestibility and energy concentration in soybean and rapeseed products fed to pigs" at the 2014 EAAP meetings. He also gave a talk at Hamlet Protein.
Hector returned to Colombia for two months. He will be back in October to spend another six months with us as a visiting scholar.
Publications
Sotak, K. M. and H. H. Stein. 2014. Nutritional value of soybean products. Pages 19-25 in Proc. Midwest Swine Nutr. Conf. Indianapolis, IN, Sep. 4, 2014.