Personnel changes
We said goodbye to Haley Spangler Bower and Yue She this month. Haley is now working as an animal welfare auditor for FACTA. Yue is returning to China Agricultural University to continue her research into phosphorus nutrition for her Ph. D. We wish them both all the best in their future careers.
Woongbi Kwon and Su A Lee joined us as Ph. D. students. Woongbi has been part of our lab before, as a visiting scholar from October 2011-October 2012. Both he and Su A studied under Stein Lab alum Dr. Beob Gyun Kim at Konkuk University in Korea.
Cristhiam Muñoz returned as a visiting scholar. He will be taking over management of the lab from Haley.
Travel and visitors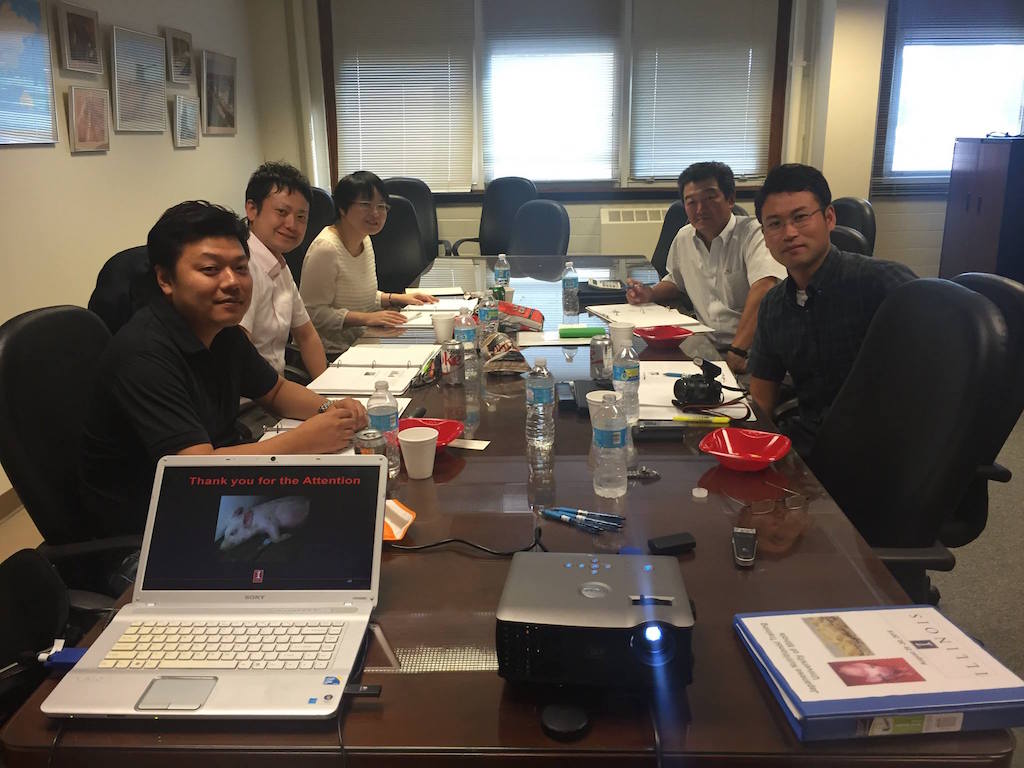 Dr. Stein went to Indianapolis on August 30 to give a talk for the Indiana Soybean Association entitled "Effects of origin of soybean meal on digestibility of amino acids." He gave a talk with the same title on August 31 at the U.S. Soy Global Trade Exchange & Midwest Specialty Grains Conference, also in Indianapolis.
We had a visit by a Japanese team of nutritionists who received training in pig and poultry nutrition (photo, right).
New experiments
John stated a study to determine the efficacy of L-methionine and D-methionine relative to DL-methionine.
Vanessa started an experiment to evaluate the requirement for STTD Ca of 50 to 75 kg pigs.
Diego Navarro started a study of the effects of the soluble and insoluble fiber on digestibility of nutrients and energy in mixed diets fed to growing pigs.
Publications
Jaworski, N. W., D. W. Liu, D. F. Li, and H. H. Stein. 2016. Wheat bran reduces concentrations of digestible, metabolizable, and net energy in diets fed to pigs, but energy values in wheat bran determined by the difference procedure are not different from values estimated from a linear regression procedure. J. Anim. Sci. 94:3012-3021.