Achievements
Seven members of our lab were at the 14th International Symposium Digestive Physiology of Pigs in Brisbane, Australia. They presented posters about their experiments: Charmaine Espinosa on Copper nutrition in pigs, Su A Lee on Calcium and Phosphorus nutrition in sows, Carly Rundle on Effects of isoquinoline alkaloids in diets for pigs. Dr. Laia Blavi on Effects of direct fed microbials on digestibility of energy and nutrients in pigs and Dr. Maryane Sespere gave a presentation about amino acid nutrition in pigs.
Personnel changes
We have new members in our team: Leidy Torres obtained her degree in Animal Science from the National University of Colombia in Bogota, Colombia. She will work as our laboratory manager and be involved in most of the projects in our team. Natalia Fanelli is from Brazil. She returned to our team to complete an internship at the farm.
New graduate students who are starting a Master's degree are: Joseph Limbach from the USA who obtained his BS degree at Kansas State University, Paola Lancheros who obtained her BS degree at America University in Bogota, Colombia. She was our Lab Manager from September 2016 to August 2018. Diego Lopez who obtained his BS degree at National University of Colombia in Bogota, Colombia also started working towards a Masters Degree. He previously spent 12 months in our Lab as an intern.
New experiments
Woongbi Kwon started an experiment this month on Effects of dietary isoleucine and valine supplementations to a high leucine diet on nitrogen balance and branched-chain amino acid metabolism of growing pigs.
Diego Lopez started an experiment on Standardized total tract digestibility of P in different feed phosphates fed to growing pigs.
Charmaine Espinosa started an experiment on Effect of Cu hydroxychloride and increasing concentrations of choice white grease on growth performance and lipid metabolism of growing pigs.
Travel
On August 22 the team had a chance to visit the new Equity Feed Mill in Chrisman, IL. The Mill started construction in 2016 and began operation in February 2018. The Mill is designed to produce up to 450,000 Tons per year. The Equity provides services to customers in an area encompassing 20,000 square miles.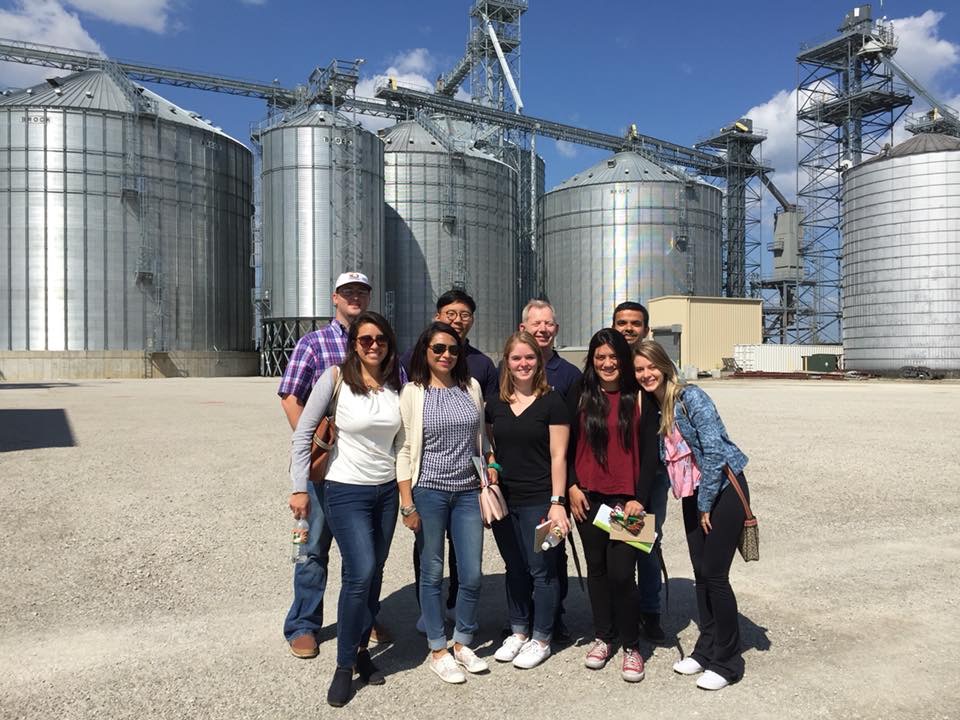 Publications
Jinno Cynthia, Yijie He, Dan Morash, Emily McNamara, Steve Zicari, Annie King, Hans H, Stein, Yanhong Liu. 2018. Enzymatic digestion turns food waste into feed for growing pigs. Anim. Feed Sci. Technol. 242:48-58.