Dr. Hans H. Stein, professor of animal sciences at the University of Illinois, knows the value of overseas travel for study and professional development. "I like to say that there are two kinds of graduate students in the Stein lab: those who have traveled abroad, and those who will travel outside the country," said Dr. Stein. "The reason international experiences are so important is that all our students after graduation will get jobs where they either will be travelling abroad or they will be doing business with people from abroad. So an important part of graduate education is to prepare students for the challenges they will encounter after graduation and there is no better way to do that than to provide international opportunities for the students." This year, four students from the Stein lab had the opportunity to travel outside of the United States.
Kelly Sotak-Peper
Ph. D. candidate Kelly Sotak-Peper spent the summer of 2014 conducting an experiment at the University of Los Baños, the Philippines. Kelly was studying the effects of origin on the apparent metabolizable energy and the nitrogen-corrected metabolizable energy of soybean meal fed to broiler chicks.
Kelly says she considered a number of options, including Spain, but decided to go to Los Baños because Dr. Rommel Sulabo, a former postdoc in the Stein lab, is a professor there. Dr. Sulabo and Dr. Stein are hoping to set up an informal exchange program to send students between the U.S. and the Philippines.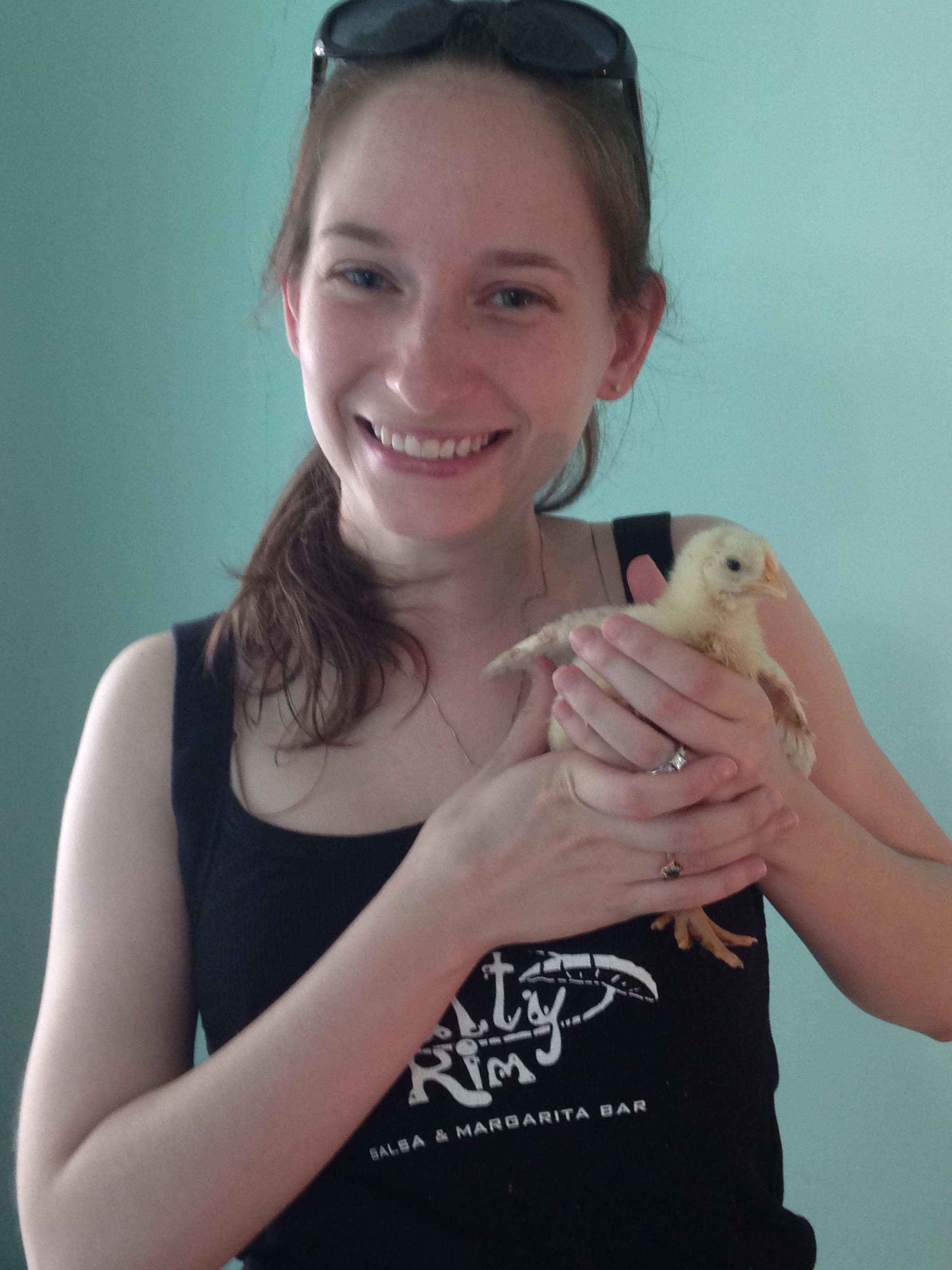 Dr. Sulabo's lab was in the process of renovating their pig crates, so Kelly decided to work with chicks. She compared the metabolizable energy in eight different sources of soybean meal, from the United States, Thailand, China, and Brazil.
Though the experiment went well, it wasn't entirely without challenges. "The last day of collections, I was not able to make it to the farm because Typhoon Glenda arrived and knocked down some trees, got in the way," Kelly said. "But they have an awesome farm research crew, and they were able to get there by motorcycle and did my work for me."
Kelly also had a great professional opportunity when she was chosen to give four presentations about soybean meal at the 20th Southeast Asian Feed Technology and Nutrition Workshop in Manila August 4-7. The workshop was sponsored by the U.S. Soybean Export Council and the U.S. Grains Council.
Finally, Kelly got to experience some of the Philippines outside of her work. "I went to Coron Island in Palawan for a few days. We went to the beach, which was nice. I'm from Illinois," she added, "so the beach was exciting."
Caroline González-Vega
In April of 2014, Ph. D. student Caroline González-Vega received the Wilson G. Pond International Travel Award from the American Society of Animal Science. She used the funding from that award to travel to the Annual Meeting of the European Federation of Animal Science (EAAP) in Copenhagen in August. Denmark wasn't the only country she visited on her trip, however.
"I feel like you grow every time you travel, you learn something new, and that's what I want," Caroline said. "I'm so happy that my Ph.D. is not just sitting in the office or in the lab or on the farm, but that I get a chance to grow as a person and as a professional. I'm so thankful Dr. Stein supported me with this opportunity, because my goal was only to go to the EAAP, but he opened up more doors to me."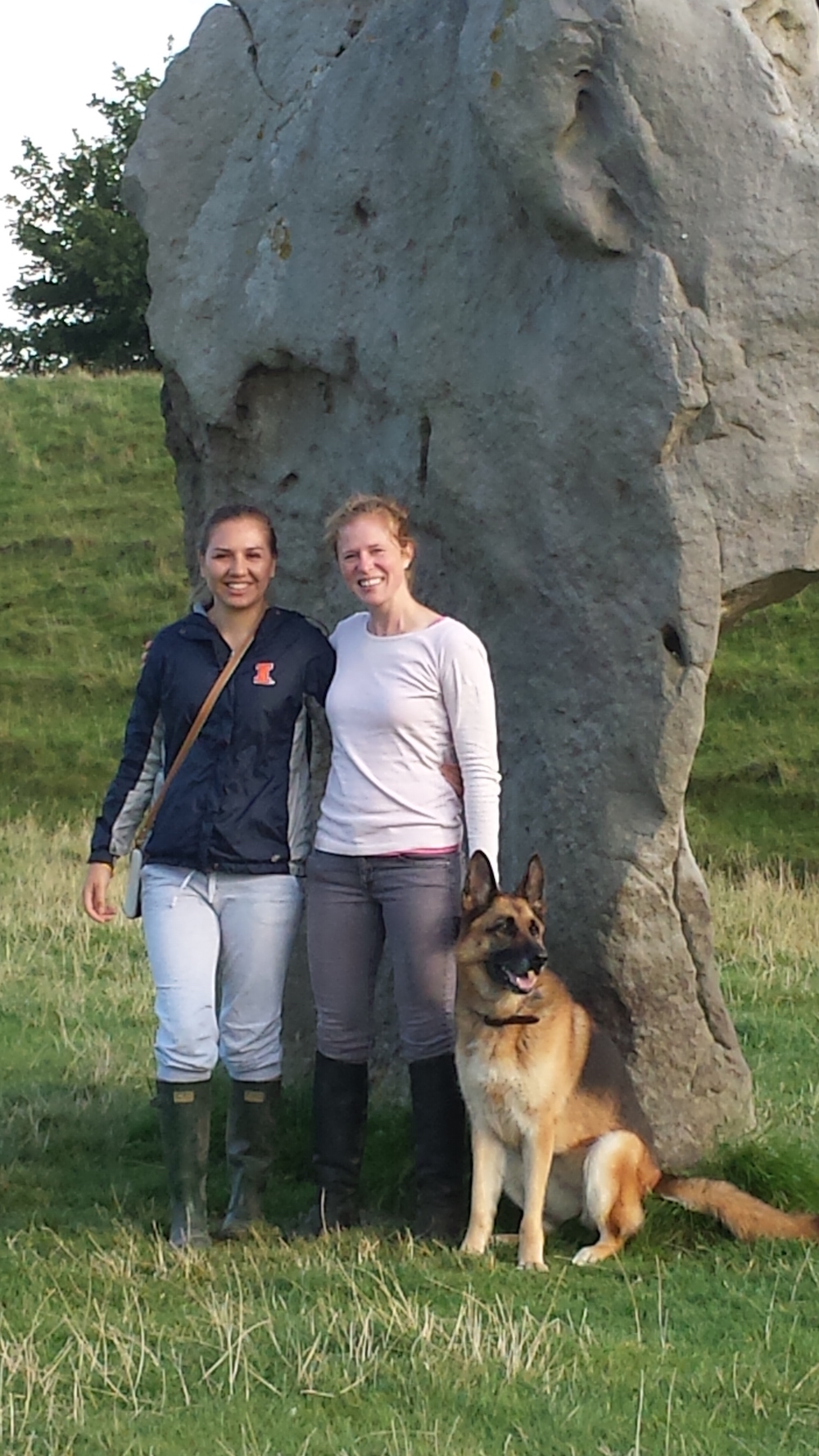 First, Caroline went to the UK and visited AB Vista, who have sponsored her work in calcium digestibility. There, she gave a presentation on her research and toured the facility. "It was nice to give them the whole results of our research and also to meet the team of AB Vista. You can see they work hard, but at the same time the environment is so friendly, so it means that you enjoy working for this company," she said.
After a quick stop in London, Caroline traveled to the Netherlands, where she visited Agrifirm. She again gave a talk about her research into calcium digestibility, then had the opportunity to visit Agrifirm's research farm. Her next stop was Spain, for a few days of vacation, and then she went to Denmark for the EAAP meeting.
"I presented on the first day of the conference. It was mostly people from industry or from research centers, and quite a few students, and I got a lot of questions. Some professors reached me afterwards to talk to me, and they were curious about our research. A lot of people don't have the chance to come to our meetings here in the United States, so it was very nice for us to be able to bring that information to them."
The focus of the EAAP conference was on "Quality and sustainability in animal production." Caroline said that research into calcium digestibility can help reduce phosphorus pollution, which contributes to algae blooms that deplete the oxygen in waterways. "It's known that calcium and phosphorus interact. For example, when you feed too much calcium in the diets, you reduce the phosphorus digestibility, therefore you have more phosphorus excretion, so you're going to contaminate more. So we need to know the right amount of calcium to feed, to help reduce the contamination."
Caroline said she enjoys travel because "It's a way to get to know other countries, their culture, how people live, what opportunities they have." She encourages students to take advantage of travel opportunities when they arise.
"I would tell students to not be afraid to go out of the country. If I can travel more until I graduate, I would like that. I'm open to go to anyplace in the world."
Diego Navarro
Another Ph. D. candidate in the Stein lab, Diego Navarro, also attended the EAAP conference in Copenhagen this summer.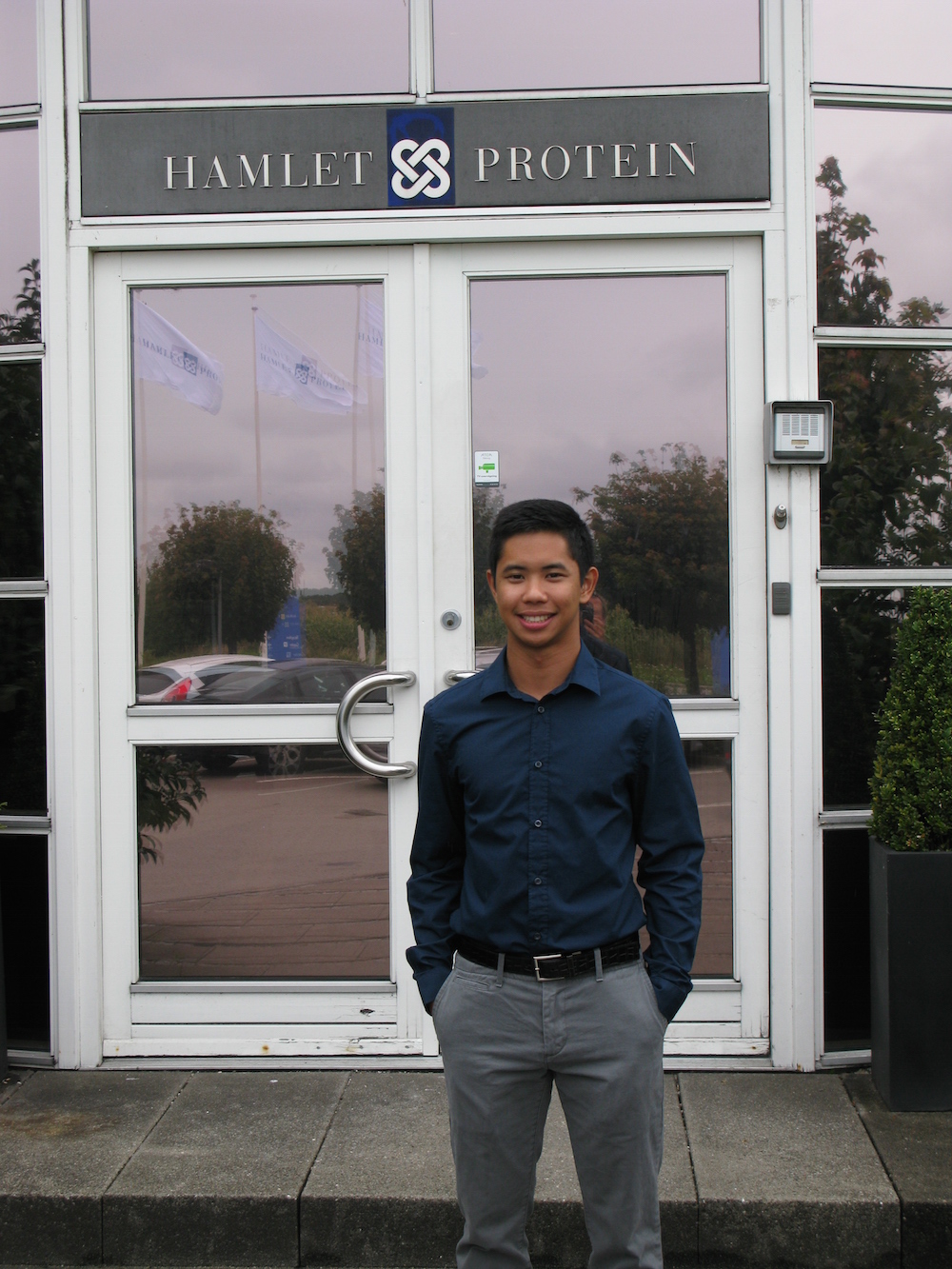 Like Caroline, he made a few stops on the way. First, he went to Horsens to give a presentation on "Digestibility of soy products in pigs" at the Hamlet Protein plant. He had previously given a version of the same talk at the Hamlet plant in Findlay, Ohio in May.
Not only were Hamlet employees on hand to hear the talk, but they invited some of their customers – and some of their competitors. "This was a big study that was funded by the VSP – the Danish Pig Research Centre," said Diego. "It wasn't only the Hamlet product that we tested; it was also Vilomix and other products from competitors. So they thought, we might as well invite them, because we have nothing to hide and it was an experiment for everyone."
After the presentation and a plant tour in Horsens, Diego traveled to Aarhus for the weekend. He met up with Niels Geertsen, who was a visiting scholar in the Stein lab in 2013-2014, and the two of them went to the museum and other sights in the city.
After that, it was time for the EAAP conference, where Diego gave a presentation on "Amino acid digestibility and energy concentration in soybean and rapeseed products fed to pigs." Accurate digestibility values are important for sustainable food animal production because they allow producers to maximize efficiency and prevent wasting of feed by overfeeding.
The EAAP conference and the rest of his European trip were great networking opportunities for Diego. The day after his presentation, he met with three people from the VSP to talk about his Master's thesis and other possible research projects in the future. He also met students and professionals from a variety of countries including Denmark, Greece, the Netherlands, and Korea.
Diego enjoyed the conference, and says he would go again. "But maybe not in Copenhagen – it's expensive!" Next year's EAAP will be held in Warsaw, Poland.
Oscar Rojas
Oscar Rojas was one of three Young Scholars selected by the Spanish Foundation for the Development of Animal Nutrition (FEDNA) to receive an all-expenses-paid trip to present their research at the annual FEDNA meeting in November.
The FEDNA meeting is the biggest conference on animal nutrition in Spain, and is attended by people from all over Europe. It is also an opportunity for nutritionists, producers, and professors to give input on the FEDNA tables, the Spanish version of the NRC tables.
Students from Spain and around the world submitted abstracts to the Young Scholars competition. On the first day of the conference, the three finalists presented their research and took questions from the audience and judges. The winner was then announced the next day. Oscar was a runner-up. The winner, Rodrigo Abad, had attended the carbohydrates course that Dr. Stein co-taught in Denmark in 2013.
While in Spain, Oscar visited former Stein lab visiting scholar Pilar Guzmán. He met with Pilar's professor, Dr. Mateos, and members of his lab. After the conference, he took a trip to Paris for a few days' vacation.
Oscar said that meeting new people was the highlight of his trip. "Every time Dr. Stein gives us the opportunity to go somewhere, you learn things outside of the U.S. system, and you have a chance to meet new people. I had the chance to meet with Dr. Mateos' lab, so I met different people from South America, Pakistan, Iraq, and Iran. I think that's the most important thing. Because you can learn something from conference, but you can also read it somewhere or get updated information another way. But the chance to meet new people, I think that's the most valuable thing."