Achievements
Congratulations to John Mathai, who successfully defended his Master's thesis titled "Effects of Fiber on the Optimum Threonine:Lysine Ratio in 25 to 50 kg Growing Gilts," on January 5. John is now starting work on a Ph. D.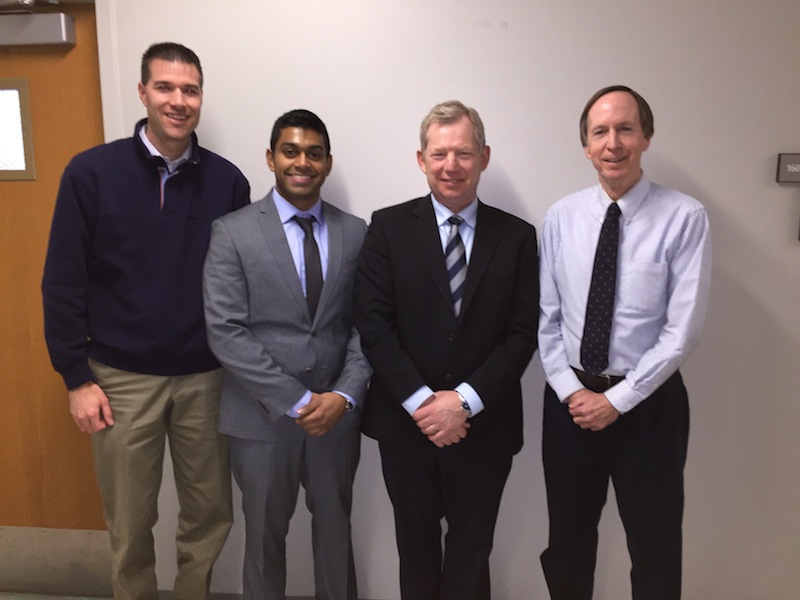 John Mathai with his thesis committee after his defense on January 5.
In addition, Neil Jaworski passed his prelims on January 27. Congratulations, Neil!
Publications
Rojas, O. J. and H. H. Stein. 2015. Effects of replacing fish, chicken, or poultry by-product meal with fermented soybean meal in diets fed to weanling pigs. Rev. Colomb. Cienc. Pecu. 28:22-41.
Little, K. L., B. M. Bohrer, H. H. Stein, and D. D. Boler. 2015. Effects of feeding high protein or conventional canola meal on dry cured and conventionally cured bacon. Meat Sci. 103:28-38.
Rojas, O. J. and H. H. Stein. 2015. Impact of particle size reduction on feed cost and feed efficiency.
Personnel changes
A new visiting scholar joined the lab this month. Maryane Sespere attends São Paulo State University, located in Jaboticabal in São Paulo State, Brazil. She will be here for seven months.
Lab activities
Caroline started an experiment to determine digestible calcium requirements for 25 to 50 kg pigs.
Gloria started experiments to determine DE and ME of rice coproducts fed to lactating sows and gestating sows.
Travel and visitors
Dr. Stein went to Denmark to participate in a PhD defense at Aarhus University. The student, Grethe Venås Jacobsen, was defending her dissertation on "Improving nutritional value of pig diets containing local crops and co-products by fermentation and enzyme addition."
Then, he traveled to Canada to give a talk at the Banff Pork Seminar in Banff, Alberta. The title of the talk was "Impact of particle size reduction on feed cost and feed efficiency."
The lab traveled as a group to Indiana on January 12-13. We visited Micronutrients on Monday (left photo, below) and JBS United on Tuesday (right).
On January 30, we hosted visitors from the U.S. Soybean Export Council and the San Miguel Corporation in the Philippines, as well as members of their families. They came to visit to tour our lab and the farm (the latter was a virtual tour due to biosecurity). Later, they celebrated the warm relations between the University of Illinois and the Philippines with dinner at Dr. Stein's house.