Accomplishments
Shelby Curry successfully defended her Master's thesis, "Digestibility of energy and nutrients in distillers dried grains with solubles fed to growing pigs," on July 28. She will go on to do her Ph. D. work at Iowa State University. Congratulations, Shelby!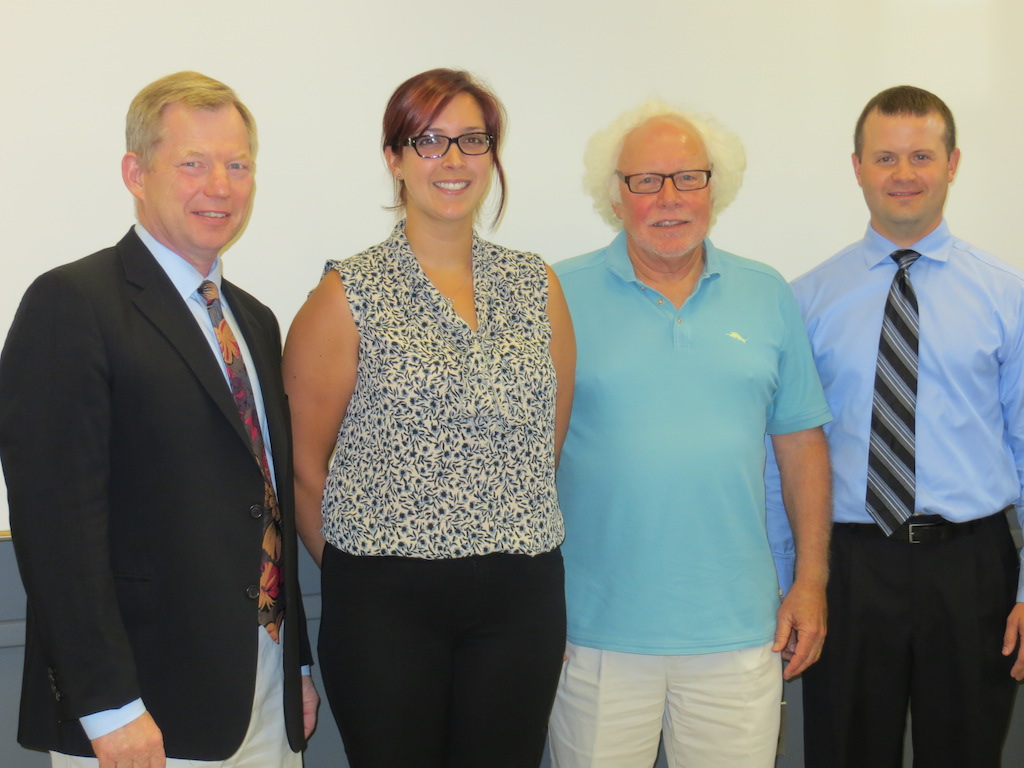 Shelby Curry with her Master's thesis committee.
Personnel changes
Pilar Guzmán joined us on July 15. She is a visiting scholar from the Facultad de Veterinaria de Córdoba in Córdoba, Spain. She will be here for three months.
Lab activities
Kelly finished the trial she's been working on in the Philippines. The objective of the study is to determine the effect of soybean meal origin on apparent metabolizable energy and nitrogen-corrected metabolizable energy in broiler chicks.
Caroline finished animal work on an experiment to determine digestible calcium and digestible phosphorus requirements for weanling pigs.
Laura started a study on calcium digestibility in animal sources.
John started an experiment to determine the effects of fiber on the threonine requirement in 30 kg growing gilts.
Travel and visitors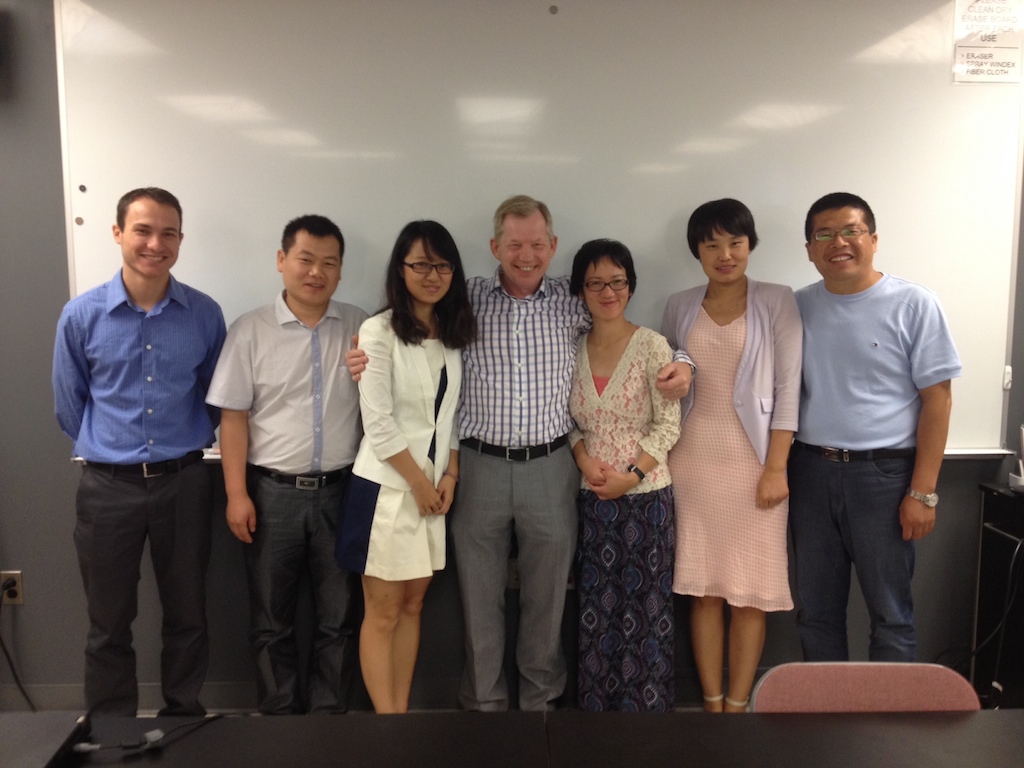 We hosted four visitors from China Agricultural University (right) on July 15. In the morning, they met with our lab members as well as Ferdinando Almeida and Junmei Zhao from Novus to discuss feedstuff evaluation. After a tour of the lab and lunch, they met again with members of the Stein lab so that we could all learn about each other's research.
Dr. Stein and all grad students (except Kelly, who was still in the Philippines) attended the Joint Annual Meeting of the American Dairy Science Association, the American Society of Animal Science, and the Canadian Society of Animal Science in Kansas City, Missouri. John, Neil, Diego, Yanhong, Jessica, and Caroline gave oral presentations; and Chelsie, Shelby, John, and Yanhong gave poster presentations. Dr. Stein spoke at a symposium on "Procedures and methodology for determining SID amino acid digestbility and energy of feedstuffs."
Publications
Liu, Y., Y. L. Ma, J. M. Zhao, M. Vazquez-Añón, and H. H. Stein. 2014. Digestibility and retention of zinc, copper, manganese, iron, calcium, and phosphorus in pigs fed diets containing inorganic or organic minerals. J. Anim. Sci. 92:3407-3415.
Maison, T. and H. H. Stein. 2014. Digestibility by growing pigs of amino acids in canola meal from North America and 00-rapeseed meal and 00-rapeseed expellers from Europe. J. Anim. Sci. 92:3502-3514.
Mathai, J. K. and H. H. Stein. 2014. Estimated lysine requirement of 25 to 50 kg growing gilts. J. Anim. Sci 92(E-Suppl. 2):218-219 (Abstr.)
Jaworski, N. W., Y. Liu, and H. H. Stein. 2014. Energy concentration and amino acid digestibility in two sources of canola meal fed to growing pigs. J. Anim. Sci 92(E-Suppl. 2):220 (Abstr.)
Navarro, D. M. D. L., Y. Liu, T. S. Bruun, and H. H. Stein. 2014. Amino acid digestibility in processed soybean products and rapeseed products fed to weanling pigs. J. Anim. Sci 92(E-Suppl. 2):221 (Abstr.)
Jaworski, N. W., D. Liu, D. Li, and H. H. Stein. 2014. Digestible, metabolizable, and net energy in diets containing 0, 15, or 30% wheat bran fed to growing pigs. J. Anim. Sci 92(E-Suppl. 2):224 (Abstr.)
Liu, Y., T. Maison, and H. H. Stein. 2014. Performance of pigs fed diets containing canola meal produced from high protein or conventional varieties of canola seeds. J. Anim. Sci 92(E-Suppl. 2):225-6 (Abstr.)
Lowell, J. E., Y. Liu, and H. H. Stein. 2014. Comparative digestibility of energy and nutrients in feed ingredients fed to sows and growing pigs. J. Anim. Sci 92(E-Suppl. 2):226 (Abstr.)
González-Vega, J. C., C. L. Walk, and H. H. Stein. 2014. Effect of fiber and fat on calculated values for standardized total tract digestibility of calcium in fish meal. J. Anim. Sci 92(E-Suppl. 2):231-232 (Abstr.)
Wealleans, A. L., Y. Dersjant-Li, R. M. Bold, and H. H. Stein. 2014. Effect of a 6-phytase derived from Buttiauxella spp. expressed in Trichoderma reesei on apparent total tract digestibility of Ca and P, bone ash, and growth performance in weaning piglets. J. Anim. Sci 92(E-Suppl. 2):237 (Abstr.)
Stein, H. H. 2014. Procedures and methodology for determining standard ileal digestibility (SID) amino acid digestibility of feedstuffs. J. Anim. Sci 92(E-Suppl. 2):377 (Abstr.)
Parr, C. K., Y. Liu, C. M. Parsons, and H. H. Stein. 2014. Phosphorus digestibility in high protein canola meals, conventional canola meal, and soybean meal fed to growing pigs. J. Anim. Sci 92(E-Suppl. 2):641 (Abstr.)
Curry, S. M., J. K. Htoo, H. V. Masey O'Neill, and H. H. Stein. 2014. Digestibility of amino acids in distillers dried grains with solubles produced in Europe from wheat, maize, or mixtures of wheat and maize and fed to growing pigs. J. Anim. Sci 92(E-Suppl. 2):643 (Abstr.)
Mathai, J. K. and H. H. Stein. 2014. Amino acid digestibility in field peas, fish meal, corn, soybean meal, and soybean hulls. J. Anim. Sci 92(E-Suppl. 2):648 (Abstr.)
Liu, Y., R. C. Sulabo, T. E. Sauber, and H. H. Stein. 2014. Different corn hybrids fed to growing pigs. I. Chemical composition, energy concentration, and digestibility of nutrients. J. Anim. Sci 92(E-Suppl. 2):667 (Abstr.)
Liu, Y., R. C. Sulabo, T. E. Sauber, and H. H. Stein. 2014. Different corn hybrids fed to growing pigs. II. Concentrations and digestibility of amino acids. J. Anim. Sci 92(E-Suppl. 2):668 (Abstr.)