Personnel changes
Ferdinando Almeida left our lab. Though we are sad to see him go, he hasn't gone far! He is working as a postdoctoral research fellow for Dr. Ryan Dilger.
Publications
Rojas, O. J. and H. H. Stein. 2013. Concentration of digestible and metabolizable energy and digestibility of amino acids in chicken meal, poultry byproduct meal, hydrolyzed porcine intestines, a spent hen–soybean meal mixture, and conventional soybean meal fed to weanling pigs. J. Anim. Sci. 91:3220-3230.
Kil, D. Y., F. Ji, L. L. Stewart, R. B. Hinson, A. D. Beaulieu, G. L. Allee, J. F. Patience, J. E. Pettigrew, and H. H. Stein. 2013. Effects of dietary soybean oil on pig growth performance, retention of protein, lipids, and energy, and the net energy of corn in diets fed to growing or finishing pigs. J. Anim. Sci. 91:3283-3290.
Stein, H. H., J. A. Roth, K. M. Sotak, and O. J. Rojas. 2013. Nutritional value of soy products fed to pigs. Swine Focus #004.
Lab activities
Julio started and finished an experiment to determine amino acid digestibility in two new hydrolyzed protein products. He also started an experiment on amino acid digestibility in fermented soybean meal, conventional soybean meal, fish meal, and poultry by-product meal fed to weanling pigs, and is working with Oscar on his threonine and valine co-product experiment.
Shelby finished studies to determine DE and ME in wheat DDGS and corn DDGS.
Oscar started several experiments: one to find DE and ME concentration in DDGS that has been pretreated to improve fiber digestibility, another to determine DE and ME concentration in co-products of threonine and valine, and one on performance of weanling pigs fed diets containing hydrolyzed yeast.
Kate started and finished a xylanase study, and also started a study of amino acid digestibility in three sources of soy protein. She finished animal work on an experiment to determine the effect of carbohydrases on ileal and total tract digestibility of nutrients, another experiment to determine the digestibility of nutrients and energy in diets containing liquid fiber products, and a study evaluating enzymes and direct-fed microbials.
Tanawong started a study on heat damaged canola meal.
Travel
Kelly, Chelsie, John, Jessica, Shelby, and Diego travelled to Denmark to take a course on carbohydrate nutrition at Aarhus University. Dr. Stein is a co-instructor of the course.
In virtual travel, Dr. Stein presented a talk on "Heat damage of soybean meal" at the 19th Annual ASAIM Southeast Asian Feed Technology and Nutrition Workshop.
Neil is in Beijing, China doing research at China Agricultural University in Dr. Defa Li's Laboratory. He will begin an experiment in July titled, "Digestible, metabolizable, and net energy concentrations in wheat middlings fed to growing-finishing pigs."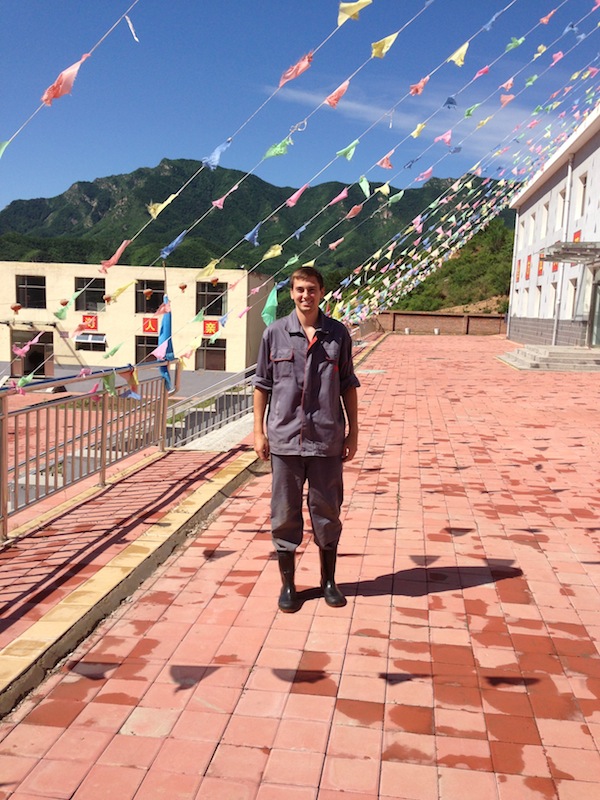 Neil at the pig farm, which is 3 hours north of Beijing in the mountains.