Accomplishments
Diego Navarro, Jessica Lowell, and Chelsie Parr participated in Commencement this May. All three received their Master's degrees. Congratulations to all of the graduates!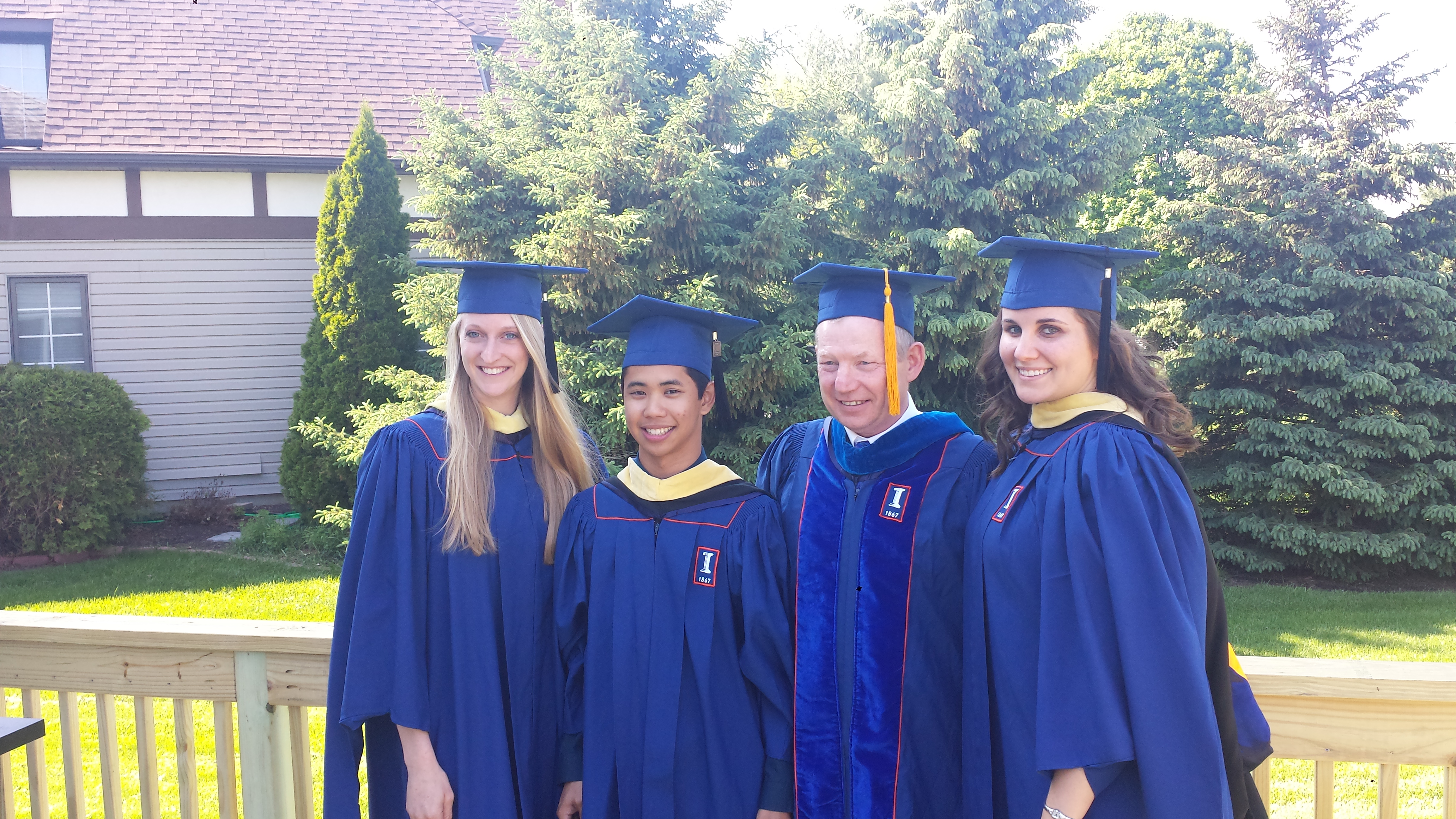 Chelsie, Diego, Dr. Stein, and Jessica celebrate Graduation.
Kelly Sotak passed her prelims and is on course to finish her Ph. D. in 2015.
As reported in last month's newsletter, Caroline Gonzalez-Vega won the Mitchell Fellowship in Animal Nutrition. Caroline also won the Wilson G. Pond International Travel Award. She talked about the awards and some of her plans for the future in "Stein Lab scholar wins two awards."
Personnel changes
Chelsie Parr has taken a job as Senior Animal Facilities and Training Specialist at Novus International's Green Acres Research Farm in Missouri.
Jessica Lowell will be leaving our lab now that she has her Master's degree. She has a number of professional and academic opportunities to choose from.
Ana Arango is also leaving after two and a half years as our lab manager. She moved to Minneapolis with her family in late May.
We will miss Chelsie, Jessica, and Ana, and wish them all the best.
Publications
Almaguer, B. L., R. C. Sulabo, Y. Liu, and H. H. Stein. 2014. Standardized total tract digestibility of phosphorus in copra meal, palm kernel expellers, palm kernel meal, and soybean meal fed to growing pigs. J. Anim. Sci. 92:2473-2480.
Curry, S. M., D. M. D. L. Navarro, F. N. Almeida, J. A. S. Almeida, and H. H. Stein. 2014. Amino acid digestibility in low-fat distillers dried grains with solubles fed to growing pigs. J. Anim. Sci. Biotechnol. 5:27.
Lab activities
Oscar finished a study of the effects of extrusion and pelleting on energy and nutrient digestibility.
Gloria finished an experiment to determine DE and ME in rice products fed to weanling pigs.
Caroline finished an experiment to determine calcium requirements in weanling pigs.
Travel and visitors
Dr. Stein spoke at the 105th American Oil Chemists' Society Annual Meeting in San Antonio. His talk was titled, "Ileal digestibility of amino acids: Current methodology and possible approaches to standardization."
Dr. Stein also gave a talk on "Use of de-oiled DDGS in swine diets" at the 18th Annual Distillers Grains Symposium in Dallas.
Diego gave a presentation at a customer event for Hamlet Protein in Findlay, Ohio. His talk was titled, "Digestibility of soy products in pigs."
Dr. Merlin Lindemann of the University of Kentucky visited.
After finishing her prelims, Kelly went to the Philippines to conduct a broiler study. She will be there for three months.