Accomplishments
Neil Jaworski, Jin Yoon, and Caroline González-Vega all successfully defended their Master's theses in November. Neil's thesis was titled "Carbohydrate composition, in vitro digestion, and effects of xylanase and phytase on nutrient and energy digestibility in grains and grain coproducts."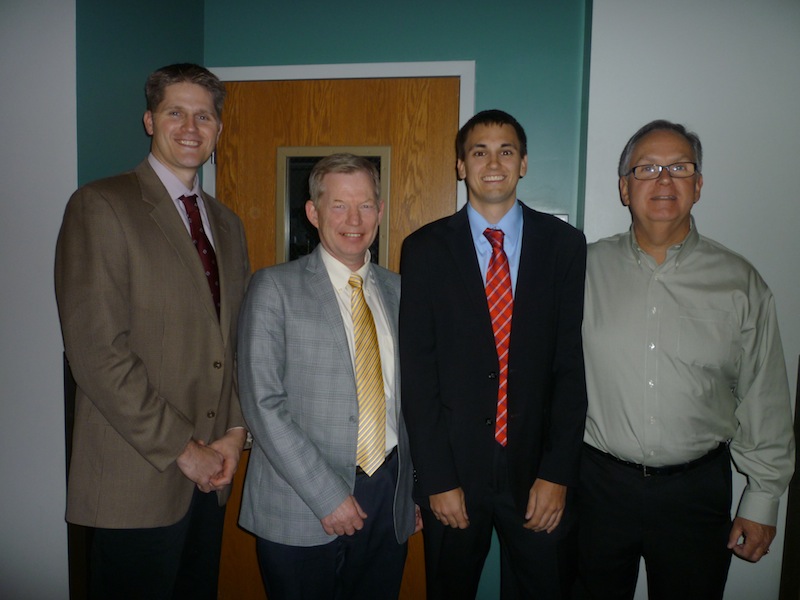 Neil with his Master's thesis committee after his successful defense on November 2.
A few weeks later, Jin defended her thesis on "Effects of genetic selection and processing of soybeans and soybean meal on nutritional quality."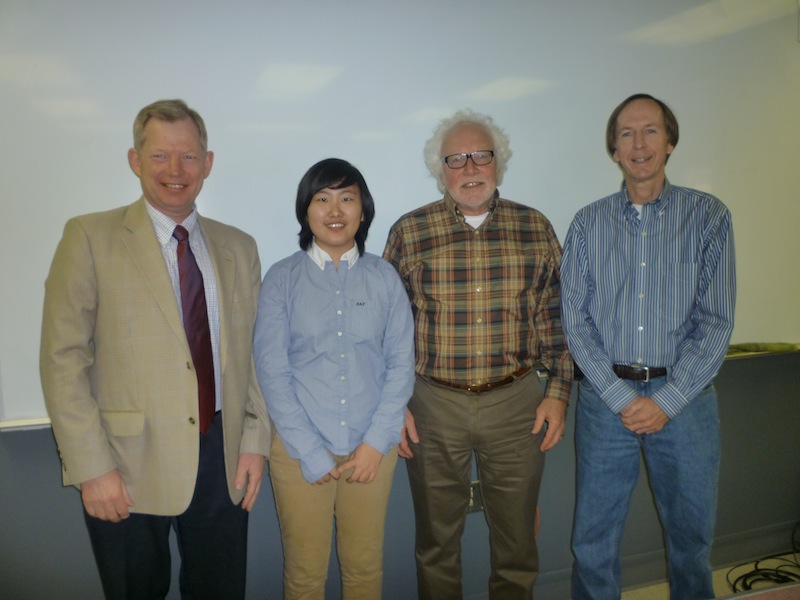 Jin with her Master's thesis committee after her successful defense on November 29.
And finally, the next day, Caroline presented her work on "Aspects of calcium digestibility in pigs."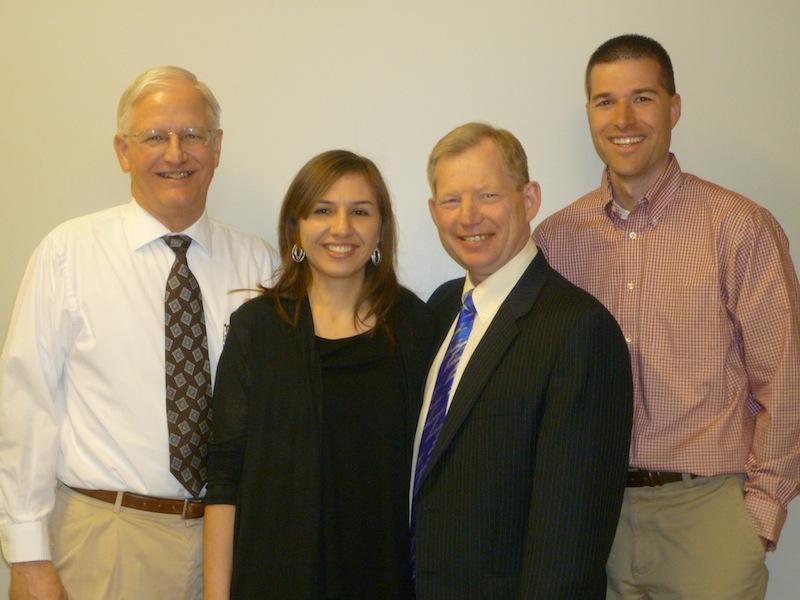 Caroline with her Master's thesis committee after her successful defense on November 30.
Neil and Caroline will stay with the lab and start work on their Ph. D. programs in the spring, while Jin will be moving on to a new career. Congratulations to all three!
Personnel changes
Dr. Rommel Sulabo resigned his position as postdoctoral research fellow. His new position is at the National University of the Philippines in Los Banos.
Dr. Yanhong Liu is our new postdoc. Dr. Liu has a B.S. degree in Biological Sciences (2004) from China Agricultural University (CAU), Beijing. She earned her Master's degree from CAU studying the effects of particle size and physical form of diets on the mast cell numbers, histamine, and stem cell factor concentration in the small intestine of broiler chickens. Then, she came to the University of Illinois, where she worked with Dr. James Pettigrew and earned her Ph. D. Her dissertation was on "Effects of plant extracts on immune function and disease resistance in pigs." We welcome Dr. Liu, and look forward to working with her.
Publications
Kim, B. G., D. Y. Kil, Y. Zhang, and H. H. Stein. 2012. Concentrations of analyzed or reactive lysine, but not crude protein, may predict the concentration of digestible lysine in distillers dried grains with solubles fed to pigs. J. Anim. Sci. 90:3798:3808.
We submitted 15 abstracts for the ASAS Midwest Meeting in Des Moines IA, March, 2013.
Lab activities
Oscar started an experiment to investigate effects of corn particle size on growth performance, carcass characteristics, and gastric ulcer generation in growing-finishing pigs.
John initiated an experiment to determine the requirement of standardized ileal digestible Lysine for 25 to 50 kg gilts.
Ferdinando completed an experiment to investigate effects of feeding heat damaged soybean meal to weanling pigs.
Kate completed an experiment to determine effects of including palm kernel expellers in diets fed to weanling pigs.
Kate also completed two experiments to determine amino acid and energy digestibility in new sources of distillers dried grains with solubles.
Travels
Dr. Stein traveled to France, Spain, the Netherlands, and Germany. In France and the Netherlands, he visited colleagues at research facilities and discussed opportunities for future collaboration. In Spain, he presented two papers at the Annual FEDNA Feed Industry Meeting in Madrid, and in Germany he gave two invited presentations at the Eurotier Exposition in Hanover.